IT 117: Intermediate Scripting
Class 16
Today's Topics
Review
New Material
Reading Assignment
In Chapter 10, Classes and Object-Oriented Programming, from our textbook, Starting Out with Python, you should read sections 10.1 and 10.2, Classes and Object-Oriented Programming and Procedural and Object-Oriented Programming, before next Tuesday's class.
Homework 7
I have posted homework 7 here.
It is due this Sunday, at 11:59 PM.
Quiz 4
I have posted the answers to Quiz 4 here.
Scoring the Mid-term
I will score the mid-term this weekend.
You will receive your scores by Monday.
Quiz Next Week
There will be a graded quiz next week.
It will cover material from today's class and Class 13.
Announcements
Today we will be discussing how to use Python to access SQLite database.
I am doing this to show you how Python can be used with other sources of information.
In order to do this, I need to discuss some basic use of Structured Query Language (SQL).
This is not a database course, so you will not be required to remember this on the Final Exam.
Review
Reusing Functions with Modules
The script I just created has a number of functions
Some of those function are only useful in this script
But three of those functions could be useful anywhere

open_file_read

open_file_write

email_message

I could copy and paste them into each script I create ...
but what if I came up with a better version of a function?
I would have to copy that version into each script ...
where I used the previous version of the function
A better idea would be to put the functions in a module ...
which I can then import as needed
Let's put these functions into a module named

utilities.py


import re
import sys

# opens a file for reading if it can
# otherwise quits
def open_file_read(filename):
    try:
        file = open(filename, "r")
    except:
        print("Cannot open", filename)
        sys.exit()
    else:
        return file
    
# opens a file for writing
def open_file_write(filename):
    try:
        file = open(filename, 'w')
    except:
        print("Could not open", filename)
        sys.exit()
        error_exit('Could not open file: ' + filename)
    else:
        return file
    
# send an email message using a message file   
def email_message(subject, email, filename):
    mail_command = 'mail -s "' + subject + '" ' + email + " < " + filename
    os.system(mail_command)
    print('Mail sent to ' + email)
Importing Modules
In order to import the contents of a module ...
the module must be in one of two locations

The same directory as the script
In a directory listed in

PYTHONPATH

PYTHONPATH

is a shell variable ...
that contains a list of directories ...
separated by a

:

...
where the Python interpreter will look for modules
Dot Notation with Module Functions
If I wanted to use the functions contained in my

utilities.py

module ...
I have to import the module


import utilities

Then, whenever I need to use a function I would have to first type the module name ...
followed by a

.

...
followed by the function name


file = utilities.open_file_read(filename)

This is called dot notation
For functions I use a great deal ...
this can be tedious
Python provides us with an alternative
If I use the following import statement


from utilities import *

I can call the function by simply using their name


file = open_file_read(filename)

without having to use dot notation
New Material
One of the reasons that Python is such a popular scripting language ...
it that it has many modules with tools for specific situations
In IT 116 you saw that Python come with the

random

module ...
which contains function for creating pseudorandom numbers
If you need to work with statistics ...
the

statistics

module provides you with the functions you need
Similarly, there are modules that Python to work with various database products
Working with Data
Computers are particularly good at dealing with large amounts of data
Often this data is contained in files
The data in a file usually has a structure ...
but that structure is not contained in the file itself
You have to know the structure before you can process the data
Files must be read into memory ...
and stored in some sort of data structure ...
where the data can be processed efficiently
If the amount of data is large ...
and needs to be used repeated ...
it is usually stored in a database
Modern database products usually employ SQL (Structured Query Language)
Database Products
There a many database products in common use

Oracle
MySQL
DB2
Postgres
SQL Server

Although each of these products use SQL ...
there are significant differences between them
All of the products run as stand alone services on a machine
Running each of these products requires a database administrator ...
to keep them running smoothly
Any work you need to do requires the help of this administrator ...
to give you access to the different parts of the database ...
and to be allowed to change it
Each of these programs runs inside its own process
to which your program needs access
The situation in memory looks like this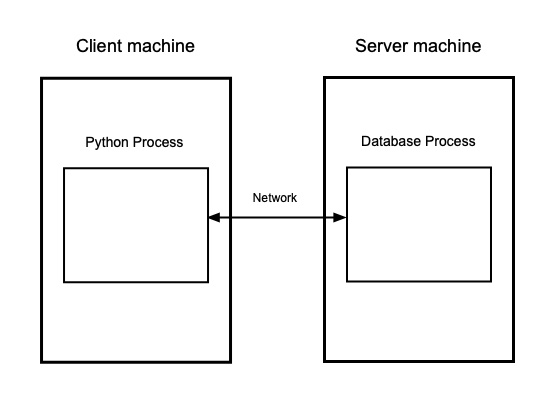 SQLite
The database products listed above are used in big commercial enterprises
In such environments nothing happens ...
without interacting with the database administrators
Many of these products have open source versions ...
that people like you and I can use
But these products require a certain amount of training ...
to set up and use
SQLite is an open source package that take a different approach
SQLite actually runs inside the same process ...
that runs the program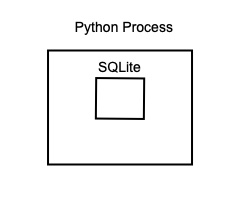 This makes SQLite much more flexible
This is why it is use in the Mac OS ...
and many mobile phone applications
The information in a SQLite database ...
is stored in a single file ...
which the programmer creates and controls
SQLite is not good for large applications ...
where many uses need simultaneous access
It is not good for multiuser environments
But it is a great learning environment
We will be using SQLite to show how Python can work with a database
We will do this using the

sqlite3

module
The SQLite Command Line
Database Structure
All the data in a database are stored in tables
The rows of a database are individual records ...
and the columns are fields within that record
Here is a table whose records contain student data


sqlite> select * from students;
student_id  first_name  last_name   umb_email              user_name   college   
----------  ----------  ----------  ---------------------  ----------  ----------
09329034    Jane        Adams       Jane.Adams001@umb.edu  jadams      CSM       
03687480    Alexander   Smith       Alexander.Smith001@um  bigboy      CM        
05431692    Christophe  Cannon      Christopher.Cannon001  ccannon     CSM       
07511379    Joseph      Malloney    Joseph.Malloney001@um  jmal        CSM       
07518979    Fatih       Jones       Fatih.Jones001@umb.ed  fjones      CM        
04175276    James       Reynolds    James.Reynolds001@umb  jr          CSM

Different tables contain data on different things
Here is a table listing the student enrolled in different sections


sqlite> select * from enrollments;
id          course_id   section_no  semester_id  student_id
----------  ----------  ----------  -----------  ----------
1            it116      1            s17          05431692 
2            it116      1            s17          09329034 
3            it116      1            s17          07518979 
4            it244      1            s17          07511379 
5            it244      1            s17          09329034 
6            it244      1            s17          04175276 
7            it116      1            sum17        03687480 
8            it116      1            sum17        07511379 
9            it116      1            sum17        07518979 
10           it117      1            f17          07518979 
11           it117      1            f17          05431692 
12           it117      1            f17          09329034

Tables usually have one column where the values are unique
This column is called the primary key
Often, the values in this column are integers ...
which are assigned automatically by the database
One of the key advantage of this structure ...
is that it eliminates data duplication
I do not have to store the first and last name of a student ...
in the

enrollment

table ...
because that data is held in the

students

table
All you need to do to access this external data ...
is to store the primary key for the row in the table ...
that has the data you need
The column that stores this data is called a foreign key
Data Checking
Every column in a database has certain restrictions ...
on the values it can contain
The database product will prevent entry of data in this column ...
that violates these restrictions
The most elementary restriction is the data type of the value
Here is the definition for the

student

table


create table students 
(   student_id  text primary key unique,  
    first_name  text not null,
    last_name   text not null,
    umb_email   text not null unique,
    email       text unique,
    user_name   text unique,
    college     text
);

Most database tables also allow you to set additional restrictions ...
on the values that can be entered in a column
This allows you to things like restrict the values to a specific range
Queries
To get information from a table you write a SQL query
A SQL query often has the following form




select COLUMN_LIST from TABLE_NAME where RESTRICTIONS;

For example, if wanted the student ID, first name and last name ...
of all students in the College of Management ...
I would write


sqlite> 

select student_id, first_name, last_name from students where college = 'CM';


student_id  first_name  last_name 
----------  ----------  ----------
03687480    Alexander   Smith     
07518979    Fatih       Jones    

All SQL statements MUST have a semicolon,

;

, at the end
Joins
The query above only show data from one table
But sometimes we want results that contain data ...
from more than one table
What if I wanted the name and email address ...
of every student in IT 117 for Fall 2017?
I can get some of this information from the

enrollments

table


sqlite> 

select * from enrollments where course_id = 'it117' and semester_id = 'f17';


id          course_id   section_no  semester_id  student_id
----------  ----------  ----------  -----------  ----------
10          it117       1           f17          07518979  
11          it117       1           f17          05431692  
12          it117       1           f17          09329034  

But the name and email address are stored in the

students

table
To get the information I want in need to write a query ...
which gets the student ID from

enrollment

...
along with the name and email from

students

A query that gets data from more than one table is called a join
There are different kinds of joins, but the inner_join is the most common
An inner join returns information in two different tables ...
based on a key value they have in common
In the results above, the

id

column is the primary key for

enrollments

...
but

course_id

,

semester_id

and

student_id

are keys in other tables
When a table contains a key value from another table it is called a foreign key
To get the names and email address of the students in IT 117 in Fall 2017 ...
I use the query above to select the correct rows in

enrollment

...
and then use the

student_id

for each record ...
to get the name and email from

students


sqlite> select enrollments.student_id, students.first_name, students.last_name, students.umb_email
   ...> from enrollments
   ...> inner join students
   ...> on enrollments.student_id = students.student_id
   ...> where course_id = 'it117' and semester_id = 'f17';
student_id  first_name  last_name   umb_email             
----------  ----------  ----------  ----------------------
07518979    Fatih       Jones       Fatih.Jones001@umb.edu
05431692    Christophe  Cannon      Christopher.Cannon001@
09329034    Jane        Adams       Jane.Adams001@umb.edu
Views
The query above is quite complicated ...
but I might want to run a similar query each semester ...
for each course
Instead writing new queries I can create a view to get the data I want
A view is predefined query that is stored in the database
You can run a query on a view ...
as if it were a table
So a view is like a virtual table
Here is the definition of a view called

students_enrollments_vw

...
which combines data from both

students

and

enrollments


create view students_enrollments_vw as
    select  enrollments.student_id, 
            students.first_name, 
            students.last_name, 
            students.umb_email, 
            enrollments.course_id,
            enrollments.semester_id
        from enrollments inner join students
            on enrollments.student_id = students.student_id;

This view is very long and complicated ...
but now that I have it ...
geting data for students in a section is much easier


sqlite> 

select first_name, last_name, umb_email from students_enrollments_vw


   ...> 

where course_id = 'it117' and semester_id = 'f17'

;
first_name  last_name   umb_email             
----------  ----------  ----------------------
Fatih       Jones       Fatih.Jones001@umb.edu
Christophe  Cannon      Christopher.Cannon001@
Jane        Adams       Jane.Adams001@umb.edu
Changing Data in a Table
As I mentioned above there are special SQL commands ...
for changing data in a table
There are three ways you can change what is in a table

Add a record
Delete a record
Change the values in a record

Each of these operations has its own SQL command
Adding a Record to a Table
To add a record to a table you must use the SQL insert command which has the following syntax




insert into TABLE_NAME (COLUMN_LIST) values (VALUE_LIST);

If you are adding a row with values for every column ...
you can skip the

(COLUMN_LIST)

Let's say I want to add a student to a Fall 2017 section of IT 244
Here is the definition of the

enrollments

table


create table enrollments
(   id          integer primary key,
    course_id   text not null references courses(course_id),
    section_no  integer not null,
    semester_id text not null references semesters(semester_id),
    student_id  text not null references students(student_id),
    unique (student_id, course_id, semester_id)
);

When you have a column marked integer primary key ...
SQLite will automatically supply the next available integer value in this field ...
if you use the special value null in your insert statement
Null is a special database value that means no information
To insert a new row into

enrollments

I can write


sqlite> insert into enrollments values(null, 'it244', 1, 'f17', '05431692');

If you get no error message the command was successful ...
which can be confirmed with a query


sqlite> select * from enrollments where course_id = 'it244' and semester_id = 'f17';
id          course_id   section_no  semester_id  student_id
----------  ----------  ----------  -----------  ----------
13          it244       1           f17          05431692
Changing the Values in a Record
If you need to change the value stored in any column of a table ...
you must use an SQL update command
It has the following format




update TABLE_NAME set(COLUMN_VALUE_PAIRS) where (CONDITION)

COLUMN_VALUE_PAIRS

are a column name and equal sign and a value
If I wanted to change the username for Alexander Smith to 'alex' ...
I would write the following


update students set user_name = 'alex' where student_id = '03687480';

Again, the only way you can tell that the change was successful ...
was to notice that you did not get an error message
But a query will show that the change worked


select * from students where student_id = '03687480';
student_id  first_name  last_name   umb_email                   user_name   college   
----------  ----------  ----------  --------------------------  ----------  ----------
03687480    Alexander   Smith       Alexander.Smith001@umb.edu  alex        CM        

You can change more than one record with a single update command
If it wanted to change the college of students who were not the College of Science and Mathematics ...
I would write


sqlite> update students set college = 'CSM' where college = 'CM';
sqlite> select * from students;
student_id  first_name  last_name   umb_email              user_name   college   
----------  ----------  ----------  ---------------------  ----------  ----------
09329034    Jane        Adams       Jane.Adams001@umb.edu  jadams      CSM       
03687480    Alexander   Smith       Alexander.Smith001@um  alex        CSM       
05431692    Christophe  Cannon      Christopher.Cannon001  ccannon     CSM       
07511379    Joseph      Malloney    Joseph.Malloney001@um  jmal        CSM       
07518979    Fatih       Jones       Fatih.Jones001@umb.ed  fjones      CSM       
04175276    James       Reynolds    James.Reynolds001@umb  jr          CSM     
Deleting Records
An SQL delete command is used to remove a record from a table
It has the format




delete from TABLE_NAME where CONDITION

If I wanted to delete all students registered for IT 244 in Fall 2017 ...
I would write


sqlite> delete from enrollments where course_id = 'it244' and semester_id = 'f17';

If no error message appears, the statement succeeded
Using SQLite in Python
Connecting to a SQLite Database
To to obtain information from a file ...
you need to create a file object
This object contains all the bookkeeping information needed ...
to deal with the file
To obtain data from a SQLite database from within a Python script ...
you need to create a connection object
You create this object using the

connect

function ...
of the of

sqlite3

module
This function takes the filename of the SQLite database as an argument ...
creates a connection object to the database ...
and returns a pointer to it
The format for using this function is




CONNECTION_OBJECT_VARIABLE = sqlite3.connect(DATABASE_FILENAME)

If my SQLite database were contained in the file

umb.db

...
in the current directory ...
I would create a connection object to it as follows


>>> import sqlite3 
>>> con = sqlite3.connect("umb.db")
The SQLite Cursor Object
Running a SQLite Query in Python
To run an SQL select statement in Python ...
you must use the

execute

method ...
of a

sqlite3

cursor object
This method takes as its argument a SQL statement
The statement must be enclosed in quotes ...
but does not need to have a semicolon at the end
To get the complete contents of the

students

table ...
I would write


>>> import sqlite3 
>>> con = sqlite3.connect('umb.db')
>>> cur = con.cursor()
>>> cur.execute('select * from students')

After I run this Python statement ...
will contain the results of the SQL query ...
represented as a list of values ...
from each selected row in the table
I can see the results by running a for loop ...
over the cursor object


>>> for row in cur:
...     print(row)
... 
('09329034', 'Jane', 'Adams', 'Jane.Adams001@umb.edu', 'jadams', 'CSM')
('03687480', 'Alexander', 'Smith', 'Alexander.Smith001@umb.edu', 'bigboy', 'CM')
('05431692', 'Christopher', 'Cannon', 'Christopher.Cannon001@umb.edu', 'ccannon', 'CSM')
('07511379', 'Joseph', 'Malloney', 'Joseph.Malloney001@umb.edu', 'jmal', 'CSM')
('07518979', 'Fatih', 'Jones', 'Fatih.Jones001@umb.edu', 'fjones', 'CM')
('04175276', 'James', 'Reynolds', 'James.Reynolds001@umb.edu', 'jr', 'CSM')
Adding a Record Using SQLite
The

execute

method of a cursor object ...
can be used to run any SQL command
To add a record to a SQLite table ...
we need to create a cursor ...
and give the SQL insert statement ...
as an argument to the

execute

method


>>> import sqlite3 
>>> con = sqlite3.connect('umb.db')
>>> cur = con.cursor()
>>> cur.execute("insert into enrollments values(null, 'it244', 1, 'f17', '05431692')")


<sqlite3.Cursor object at 0x7febd141aab0>

The result marked in

red

above ...
means the that the insertion succeeded
If the SQL command failed for some reason ...
we would get an error message
The SQL statement that created the

enrollment

table contained the following


unique (student_id, course_id, semester_id)

This means the table cannot have two entries ...
where the student ID, course ID and semester ID are the same
If we try to do so we will get an error message


>>> cur.execute("insert into enrollments values(null, 'it244', 1, 'f17', '05431692')")


Traceback (most recent call last):
  File "<stdin>", line 1, in <module>
sqlite3.IntegrityError: UNIQUE constraint failed: enrollments.student_id, enrollments.course_id, enrollments.semester_id
Committing Changes to a Table
If we get no error message after running a SQL insert command ...
a row will be added to the table
But if we leave the Python script without doing something else ...
all our changes will be lost
This is because SQL databases want to make it easy for you ...
to undo what you have just done
This is a safety feature ...
that helps maintain the integrity of a database
Any change you make to a SQL table will not take affect ...
until you have issued a SQL commit command
In

sqlite3

this is done by calling the

commit

method ...
on the cursor object


con.commit()
Changing a Record Using SQLite
Deleting a Record Using SQLite
Deleting a row involves giving an

execute

statement ...
as an argument to

execute

To delete the record I just added ...
I would write


cur.execute("delete from enrollments  where course_id = 'it244', section_no = 1, semester = 'f17', student_id = '05431692'")
<sqlite3.Cursor object at 0x7f15373ffb20>>

Of course, this change must be committed ...
before the script ends
Writing Python Code to Work with SQLite
If I wanted to use the SQLite tables I have shown you ...
in a Python program ...
I would have to write functions to do the following for each table

Add a record
Delete a record
Change the fields in a record
Select records from the table

I would put these functions in a module ...
so I could use them in any script
For each function I would have to create a string ...
consisting of a SQL statement ...
that I could use as an argument to

execute
A Python Function to Add an Entry to the
enrollment

Table
A SQL statement to add a student to the

student

table would have this format




insert into enrollments values (null, COURSE_ID, SECTION_NO, SEMESTER_ID, STUDENT_ID)

So a function to add an entry to the

enrollments

table must do the following

Create a string containing the SQl insert statement
Create a cursor
Call the

execute

method on the using the statement as an argument

Here is the code


def enrollment_add(con, course_id, section_no, semester_id, student_id):
    stmnt = "insert into enrollments values(null, '" + course_id + "', '"   + str(section_no) +\
                 "', '"  +  semester_id + "', '" + student_id + "')"
    cur = con.cursor()
    cur.execute(stmnt)
    cur.close()

Note that the call program has to create the connection object
Parameter Binding with
sqlite3
In the function above most of the work was constructing the SQL command
Not only did I have to make sure I put in all the values ...
but I had to quote each of the string values ...
which involved a lot of concatenation
Fortunately, there is another way to do this
It relies on a feature of the

execute

method ...
called parameter binding
When

execute

is used with parameter binding it takes two arguments
The first argument is a string consisting of a SQL statement ...
where specific values are replaced by placeholder
A placeholder is a group of characters within in larger string ...
which is replaced by a specific value ...
at a later time
The second argument to

execute

...
is a tuple containing the values for the placeholders
The

execute

method has two types of parameter binding ...
but the simplest uses

?

in the SQL statement as a placeholder ...
and a tuple containing the values
Using this technique the first argument to

execute

would be


insert into enrollments values(null, 

?

, 

?

, 

?

, 

?

)

The second argument would be the list of values
Using parameter binding the new version of

enrollment_add

looks like this


def enrollment_add(con, course_id, section_no, semester_id, student_id):
    cur = con.cursor()
    

cur.execute("insert into enrollments values(null, ?, ?, ?, ?)", (course_id, section_no, semester_id, student_id))


    cur.close()
Attendance
Class Quiz