IT 244: Introduction to Linux/Unix
Class 13, Tuesday
Today's Topics
Tips and Examples
Review
New Material
Homework 7
I have posted homework 7 here.
It is due Sunday, March 25th, at 11:59 PM.
It is not due this coming Sunday to allow you to study for the Mid-term Exam.
Mid-term
The mid-term exam for this course will be held on Tuesday, March 20th.
It will consist of 25 questions like those on the quizzes.
You will have the entire class period to work on the exam.
60% of the questions will come from the Ungraded Class Quizzes.
The last class before the exam, Thursday, March 8th, will be a review session.
You will only be responsible for the material in the Class Notes for that class on the exam.
The Mid-term is a closed book exam.
Quiz 4
I have posted the answers to Quiz 4 here.
Tips and Examples
Using chmod Twice to Change Permissions
There are two different ways that you can specify the permissions when using chmod
Different characters are used with each format
But there is another difference between these two ...
that is not immediately obvious
When you use the numeric format you specify all 9 permission ...
(3 different permissions for 3 different groups of users) ...
all at once
You do not have to do this when using the symbolic format
You can specify all permission at once with the symbolic format ...
though people usually don't
With the symbolic format I can change one permission ...
without affect the others
for example if I have a file with the following permissions


$ ls -l memo.txt 
-rw-rw-r-- 1 ghoffman faculty 0 Mar  5 16:38 memo.txt

I can remove only the read permission for everyone ...
like this


$ chmod o-r memo.txt 

$ ls -l memo.txt 
-rw-rw---- 1 ghoffman faculty 0 Mar  5 16:38 memo.txt

Notice that I only changed one permission ...
and left all the others as they were
This means you can use chmod in symbolic mode several times on a file ...
to get the exact permission on a file
You cannot do this when using the numeric format
For example I sometime see student trying to assign all permission ...
to all users ...
using chmod with numeric format twice
This does not work ...
because the results of the first call to chmod ...
are overwritten by the second call
Here is an example


$ chmod 700 memo.txt 

$ ls -l memo.txt 
-rwx------ 1 ghoffman faculty 0 Mar  5 16:38 memo.txt

$ chmod 077 memo.txt 

$ ls -l memo.txt 
----rwxrwx 1 ghoffman faculty 0 Mar  5 16:38 memo.txt
Review
Data Streams
Computers work with information
They take information in ...
and they send information out
We can think of these flows of information as data streams
When we run a command that produces some result ...
the characters that we see ...
are a flow of information sent to the screen
This is an output stream
When we type something into a word processor ...
this is a flow of information ...
from the keyboard ...
into the program
This is an input stream
Devices
Devices are pieces of electronic equipment ...
that communicate with the CPU ...
through data streams
They do this using device drivers ...
which are software created by the manufacturer ...
that allows the device to talk to the CPU ...
through the kernel
Most device drivers support two way communication ...
allowing both input streams ...
and output streams
Since the device drivers handle the details ...
of data streams coming into or out of a device ...
the kernel can treat input and output to any device ...
in the same way
It does not distinguish between the keyboard and the disk ...
as devices that can provide input streams
This makes things simple
Unix Devices Are Files
One of the reasons why Unix is so powerful ...
is that decisions were made when it was designed ...
to keep it simple and elegant
One such decision was how Unix treats devices
In Unix devices are files
The hard drive is a device ...
that can provide both input ...
and output
You can read a file as input ...
and save information to disk as a file ...
for output
Instead of creating some new thing ...
to represent a device ...
Unix just thinks of then as a special kind of file
A device file
This allows programs that run on Unix ...
to send output to a device ...
and take input from a device ...
in the same way it does for a file
Multiuser Operating Systems
In the 1970's when Unix was created ...
computers were big, expensive machines
In order use these machines efficiently ...
multiuser operating systems were created ...
which let many people use the same machine ...
apparently at the same time
The way this works is the machine does some work for each user ...
giving them a slice of time on the CPU
When their slice of time is up ...
the machine stores the contents of RAM ...
which holds the work that has been done ...
in a special place in memory
It then gives a time slice to the next user
Because the machine is so fast ...
it looks like several people are using the machine ...
at the same time
The Monitor and Keyboard
In the 1970 when Unix was created ...
multiuser operating systems allowed several people ...
to be connected to one very expensive computer
This was done by connecting terminals ...
the combination of a keyboard and a screen ...
directly to the machine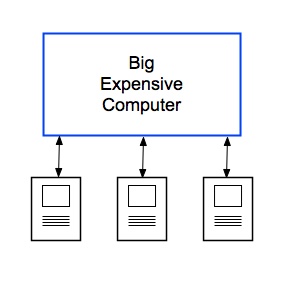 The terminal is a device ...
so it needs a device driver
tty is the device driver
that handles both input and output ...
to the terminal
So tty is the device driver for both the keyboard ...
and the screen
Standard Input, Standard Output and Standard Error
Every Unix process always has access to three different data streams

Standard Input
Standard Output
Standard Error

Unix thinks anything it can write to ...
or read from ...
is a file
Standard input is where the program gets input ...
when a specific source of input ...
like a file or a device ...
is not specified
By default, standard input is the keyboard
Standard output is where the program sends its output
if a specific file or device is not mentioned
By default, standard output is the screen
Standard error is where the program sends error messages
By default, standard error is the same as standard output: the screen
The Keyboard and Screen as Standard Input and Standard Output
When a command or script does not specify ...
where input is to come from ...
it comes from standard input
By default, standard input is keyboard
When a command or script does not specify ...
where output should go ...
it goes to standard output
By default, standard output is the screen
When a command or script does not specify ...
where error messages should go ...
they goes to standard error
By default, standard error also is the screen
Redirection
Redirection is telling Unix to take data from ...
or send data to ...
a different place than usual
Redirection is one of the features that makes Unix so flexible
You can take input from something ...
other than the keyboard ...
like a file
You can send output to something ...
other than the screen ...
like another file
Redirection is what makes pipes possible
When you set up a pipe ...
you are sending the output from one program ...
into the input of another
You are redirecting the output of the first command ...
from the screen ...
to the input of the second command
This allows next command to take its input ...
from something other than a file
Redirecting Standard Output
Redirecting Standard Input
Redirecting Standard Output Can Destroy a File
If you redirect standard output to a file that already exists ...
you will overwrite the contents of that file
You will replace the original contents of the file ...
with new data
Adding Output to an Existing File
/dev/null
Sometimes a program will do something useful ...
but produce output you don't want
For situations like this, Unix provides

/dev/null

Any output you send to

/dev/null

will disappear
It will never appear on the screen
If you redirect input to come from

/dev/null

...
the command will receive an empty string

/dev/null

is most useful when dealing with error messages
Since error message normally go to the screen ...
they will be mixed up with the regular output
Sending error messages to

/dev/null

...
prevents this from happening
New Material
Running a Command in the Background
Normally, when you run a command ...
you have to wait for it to finish
Such commands are said to be running in the foreground
When the command does not take long to finish ...
this is not a problem
But some commands take a long time to finish
Compilers can run for a several minutes ...
if the source code is long enough
Unix gives you a way to get the command prompt back ...
after running a command
You can run the command in the background
A background command is disconnected from the keyboard ...
so you cannot talk to it by typing ...
but it is not disconnected from the screen
When you run a command in the background ...
you get the prompt back immediately ...
without waiting for the command to finish
The shell will tell you when the background command has finished
Every time you run a program, a process is created
A process is a running program
The process has access to system resources ...
like memory and the filesystem
Unix, like most operating systems, is multitasking
This means you can have more than one process running at a time
To run a command in the background ...
enter an ampersand,

&

, at the end of the command line ...
just before hitting Enter




COMMAND  [ARGUMENTS]  &

For example


    $ sleep 5 

&


    [1] 17895
    $

sleep is a command that makes a program stop running
for a specified period of time
It is useful in shell scripts ...
when the script is waiting for something to happen
If you put a process in the background and then log out ...
the process will continue to run
Jobs
Every time you type something at the command line ...
and hit Enter ...
you are creating a job
Every time a program runs ...
a process is created for that program
But what about a pipeline?
A pipeline is a collection of commands joined by pipes
Each command will generate its own process
But the collection of all the separate processes ...
is a single job
Each process in a pipeline will have its own process ID
So as the pipeline progresses ...
the currently running process will change
But the job number does not change
The job is the collection of all processes ...
created at the command line
If you run a bash script ...
that script may start other processes ...
all of which are part of the same job
You can have multiple jobs running at the same time
But only one job can be in the foreground at any one time
What's so special about the foreground?
Only the foreground job can accept input from the keyboard
Every process has a process ID number ...
and every job has a job number
When you tell the shell to run a job in the background
it returns two numbers


    $ sleep  5  

&


    [

1

] 

7431


    $

The job number is enclosed in brackets and comes first
The second, larger, number is the process identification number ...
of the first process in the job
The process identification number is also know as the PID
When the job finishes, the shell prints a message


    [1]+  Done                    sleep 5

The message does not appear the moment the job finishes
If it did that, it might appear while another job is producing output
That would be very annoying ...
and you might miss it
Instead, the shell waits for the next time you run a command ...
hit Enter ...
You will first see the output of the command ...
and then a message that the background job has finished
If a job placed in the background ...
produces output to standard output ...
it must be redirected ...
otherwise the output from the background job ...
will go to the screen ...
while you are working on other things
This can be very confusing
So be sure to redirect any output from a background job ...
to a file or

/dev/null
Moving a Job from the Foreground into the Background
Aborting a Background Job
How do you stop a job that is running in the background?
There are two ways
If the job were running in the foreground ...
you could stop it by hitting Control C
That works with a foreground job ...
because it is connected to the keyboard
But a background job can't hear anything from the keyboard
The keyboard is disconnected from background jobs
But you can bring a job from the background ...
into the foreground
You do this using the fg (foreground) command
Once you have the job in the foreground ...
you can abort it using Control C


    $ ./bother.sh 

&


    [1] 10575
    
    $ Excuse me
    ls
    bother.sh  sleep_echo.sh
    
    $ Excuse me
    Excuse me
    

fg


    ./bother.sh
    Excuse me
    

^C


    
    $

When there is more than one job in the background ...
you must give fg the job number
But there is another way to kill a background job
You can terminate any job using the kill command
But to use kill you must tell it what to kill
The usual way to do this is with the process ID ...
of the process you want to terminate

kill PROCESS_ID

You are given the job and the process numbers ...
when you start the background job
If you forget them ...
you can always run ps (process status)


    $ ./bother.sh 

&


    [1] 12444
    
    $ Excuse me
    

ps


      PID TTY          TIME CMD
    12264 pts/2    00:00:00 bash
    

12444

 pts/2    00:00:00 bother.sh
    12447 pts/2    00:00:00 sleep
    12448 pts/2    00:00:00 ps
    
    $ Excuse me
    Excuse me

Once you have this information you can run kill


    $ Excuse me
    Excuse me
    

kill 12444


    $ 
    [1]+  Terminated              ./bother.sh
    $ 

You can also use the job number with kill
But you must precede a job number ...
with a percent sign,

%

kill %JOB_NUMBER

You can get the job number by using the jobs command


    $ ./bother.sh 

&


    [

1

] 12543
    $ Excuse me
    Excuse me
    Excuse me
    jobs
    [1]+  Running                 ./bother.sh 

&


    $ Excuse me
    Excuse me
    Excuse me
    Excuse me
    Excuse me
    

kill %1


    $ 
    [1]+  Terminated              ./bother.sh
    $
Attendance
Graded Quiz