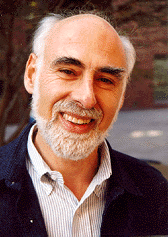 Ethan D. Bolker
Departments of Mathematics & Computer Science
---
Interests
Combinatorics, geometry

Math with kids K-infinity
---
Some Links
Common Sense Mathematics - a new text for teaching quantitative reasoning
It's Elementary - draft of a book about time spent at the J. P. Manning elementary school.
Building a stellated dodecahedron
Scheduling for Performance: queueing theory models for fair share scheduling, goal mode scheduling, NT cpu utilization measurements, Intel's hyper-threading technology, virtualization
A simple-minded model for protein folding.
Looking for a particular piece of the Mandelbrot set
email for Joan Bolker: jbolker AT cs umb edu
Jessica Bolker's home page http://www.biolsci.unh.edu/faculty/bolker
Adam Leffert's home page - click here for MindModel
Base conversion: An Excel spreadsheet with which you can experiment to see what numbers look like when expressed in different bases. (I have set up this spreadsheet so that you can only enter numbers, not change the formulas that do the work. But if your version of Excel doesn't match mine you might have to go to tools->unprotect to make this spreadsheet work.)
Flip coins: An Excel spreadsheet that simulates flipping ten coins at a time, collecting and displaying statistics.
---
Finding me:
My .plan
---
Reaching me:
email:

eb AT cs umb edu

US mail:

Departments of Mathematics and Computer Science
University of Massachusetts at Boston
100 Morrissey Blvd.
Boston, MA 02125-3393
USA



Phone:

(617) 287-6444 University office phone
(617) 969-2892 home phone, with answering machine, < 9PM !


FAX:

(617) 287-6433 (Department FAX)
(617) 969-2892 (If FAX expected)