IT 116: Introduction to Scripting
Class 12
Today's Topics
Review
New Material
You should read Chapter 5, Functions, from our textbook, Starting Out with Python, before next week's class.
Homework 5
I have posted homework 5 here.
It is not due this coming Sunday.
Instead is due on the Sunday of the following week, July 8th.
This is to allow you time this weekend to study for the mid-term.
Mid-term
The mid-term exam will be given on Monday, July 2nd.
It will consist of questions like those on the quizzes along with questions asking you to write short segments of Python code.
60% of the points on this exam will consist of questions from the Ungraded Class Quizzes.
The last class before the exam, Thursday, June 28th, will be a review session.
You will only be responsible for the material in the Class Notes for that class on the exam.
The Mid-term is a closed book exam.
Quiz 2
I have posted the answers to Quiz 2 here.
Script Requirements for Functions
The new homework assignment requires you to define functions
When you write these function you must pay attention to the Script Requirements
Some of these requirements apply to functions.
Function names must be a good description of what the function does
Every function must have a comment before the header which describes what the function does.
All function definitions must must appear at the top of the script
The function body must contain no blank lines
All functions definitions must have a blank line between them
The code that runs the functions must appear at the bottom of the page after all functions have been defined
There must be a blank line between the last function definition and the code that runs the function
The code below shows what I mean


# this program prints some information about me
# prints the address of our campus

# prints the address of UMB
def print_umb_address():
    print("University of Massachusetts at Boston")
    print("100 Morrissey Boulevard")
    print("Boston, Massachusetts   02125-3393")
    
# prints some information about me
def print_personal_info():
    print('Glenn Hoffman')
    print('Information Technology Program Director')
    print('Computer Science Department')
    print('University of Massachusetts at Boston')
    print('ghoffman@cs.umb.edu')
    print('Science 3-92A')
    
print("Some information about me")
print()
print_personal_info()
print()
print_umb_address()
Review
Functions
A function is a group of statements ...
that has a name and performs a specific task
The Python interpreter has a number of functions ...
that you can use without doing anything special
They are called built-in functions ...
and you can use them in any Python script
But you can define your own Python functions
Most Python scripts have a number of functions inside them
You can also create files with a number of useful functions ...
called modules
and then use the Python import command ...
to bring these functions into any Python script
Using Functions in Writing Programs
The idea of breaking a big job into small jobs ...
is one of the most important ideas in engineering
The formal name for this process is modularization ...
but it often referred to as "divide and conquer"
In programming, each specific task ...
should have its own function
This approach has many advantages
Programs that are broken up into functions are easier to read
Modularized programs are usually shorter ...
because you can use the same function over and over again
Modularization makes programs easier to test
because you can test each function individually
Modularization also makes it easier to work in teams ...
since each function has a simple job to do ...
and the programmer does not have to worry about the rest of the work
Two Types of Functions
There are two types of functions

Functions that return a value
Functions that do not return a value

The textbook calls the second type of function a void function
The conversion functions like str, int and float ...
are examples of functions that return a value
An example of a function that does not return a function is print
It causes something to be printed ...
but it doesn't return a value
Function Names
Defining a Function
Calling a Function
To make a function run you must write a function call
A function call has two parts

The function name
A list of arguments enclosed in parentheses

You must follow the function name with parentheses ...
even if the function takes no arguments
The Python interpreter process a script ...
statement by statement
After a statement is processed ...
the interpreter never deals with it again
Functions must be defined before they are used ...
otherwise the interpreter will not be able to call them
When the interpreter comes upon a function definition ...
it stores it in a special place in memory
When the interpreter comes across a function call ...
it goes to the special memory location ...
where it stored the function ...
and executes the function statement by statement
Once the function finishes ...
the interpreter returns to the line in the script ...
where the function call occurred
Indentation in Python
In Python, all statements in a code block must be indented ...
and they must be indented using the same characters
The best way to indent a code block ...
is to use a Tab character
If a code block contains another code block ...
that second code block must be indented further
New Material
The Advantages of Isolation
One of the good thing about breaking up a big problem into smaller problems ...
is that this allows teams of people to work in isolation ...
without worrying about how other teams are getting along
When building a bridge, the team working on the anchorage ...
the massive concrete structures that hold the cables taught ...
do not have to worry about how those working on the foundations of the towers ...
are getting along
Things work best when the work that each team does ...
is as independent of the work of others as possible
If teams had to keep talking to one another as they worked ...
it would slow things down considerably
Isolating the work of one group allows that group to continue working ...
even if other groups run into a problem
Specifying the Work for a Function
Before you write a function ...
you should be clear what the function should do
Sometimes you write this out as a formal specification
More often it is a short description of what the function will do ...
written at the top of the code ...
in a comment
Here are comments from some of the functions I have written ...
in a module named

utilities.py

...
for use in other scripts

converts a string into a decimal, if it can, otherwise returns the empty string
prints an error message, then quits
adds spaces to a string until its length is equal to the parameter given
converts a string into an integer if it can, otherwise prints an error and quits
Keep It Simple
One of the best ideas in engineering goes by the acronym KISS ...
which stands for Keep It Simple Stupid
Which do you think will break first ...
a machine with 10 parts ...
or one with 100?
The simpler something is ...
the less there is to go wrong ...
and the less likely it is to fail
When writing a function, the KISS principle says that ...
a function should do one thing ...
but do it well
The more complicated you make a function ...
the harder it is to get it to work
Following this advice also let's you create functions ...
that can work in many different scripts
Functions in Memory
We want to keep each function isolated from the rest of the code ...
so other sections of the code ...
don't interfere with its work
A function should operate in its own little world ...
getting just enough information from outside ...
to do its work ...
but no more
A function should not care about the rest of the code
It should just do its own bit of work ...
and ignore everything else
The way this happens in most programming languages ...
is to give each function its own bit of memory ...
while it is running
When you run a script, the Python interpreter run the program ...
in a section of memory that reserved just for that script
No other program can use that memory ...
or see what is inside it
Variables are places set aside in the memory for a script ...
that have a name ...
and a value
When your script calls a function ...
that function gets its own bit of the program memory ...
that only it can use
This way whatever goes on in the rest of the program ...
cannot interfere with the work of the function
It also means that changes made to variables ...
inside the functions own piece of memory ...
disappear when the function ends
Memory for Variables
When the interpreter runs a script ...
it processes it statement by statement
When it comes across a function definition ...
it stores it in memory ...
so the code will be available when the function is called
A similar thing happens with variables
You create a variable when you want to store a value ...
for future use
A variable is a location in memory ...
with a name ...
and a value
The the script has a special place in memory ...
where the interpreter stores variables as they are defined
When a function is called its variables ...
also get their own space in memory ...
which is different from the variable memory space ...
of the rest of the script
Parameters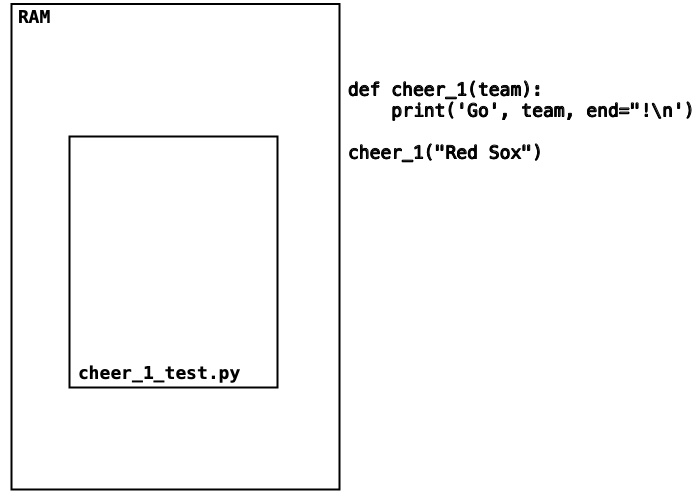 The script

cheer_1_test.py

has variable memory assigned to it ...
but the function call has not been executed ...
so the function has no variable memory
When

cheer_1

is called ...
it gets its own piece of memory for variables...
and the parameter

team

...
gets the value "Red Sox" ...
from the function call ...
which it stores in it's own variable memory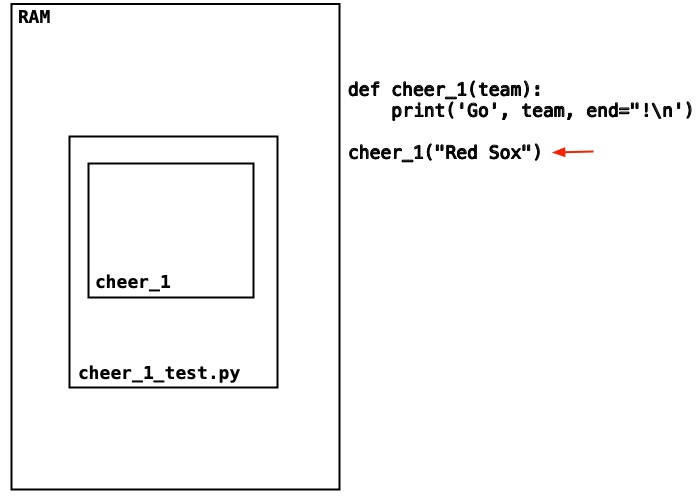 After the function finishes, both the variable memory for

cheer_1

...
and

team

disappear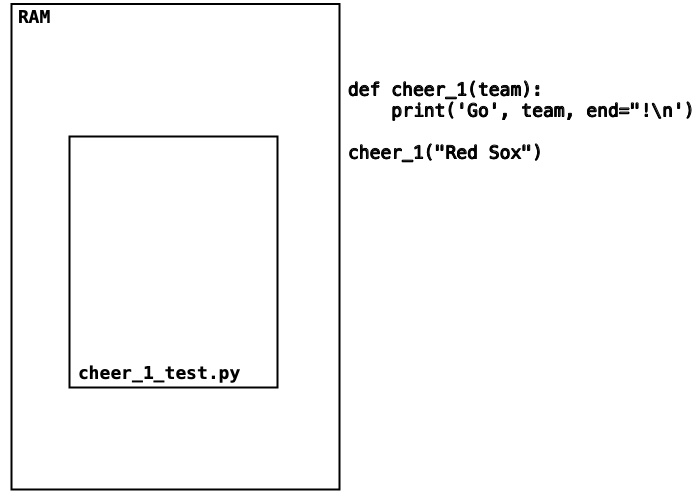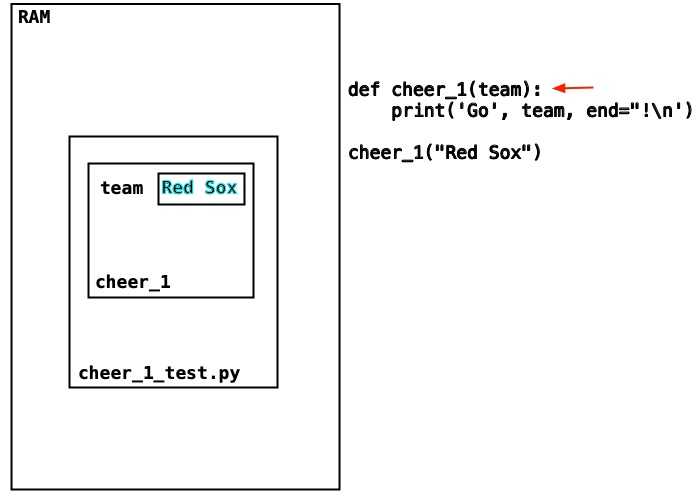 The function has no variable memory allocation yet ...
but the script has declared the variable

team

...
in it's own variable memory space
When the function is called it gets it own variable memory space ...
in which it creates its own variable

team

This variable is different from the variable of the same name ...
in the script's variable memory space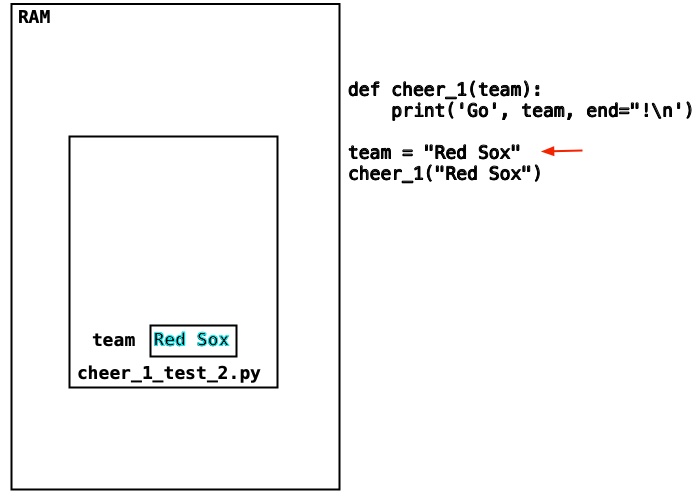 When the function finishes it gives up its memory space ...
which holds the parameter

team

This leaves the original script variable

team

...
in the script's variable memory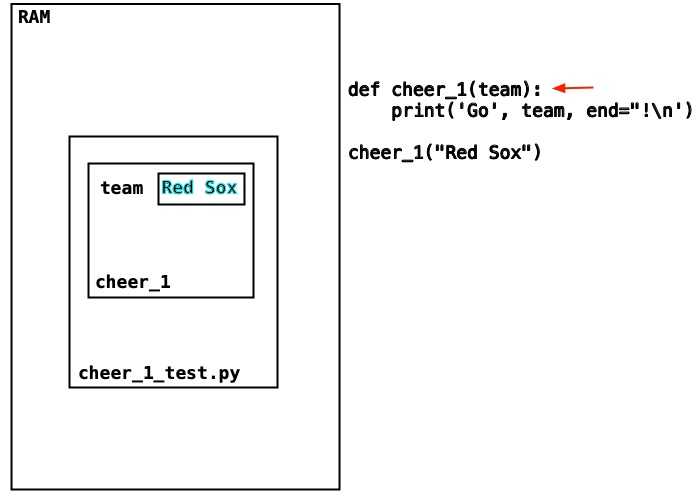 Local Variables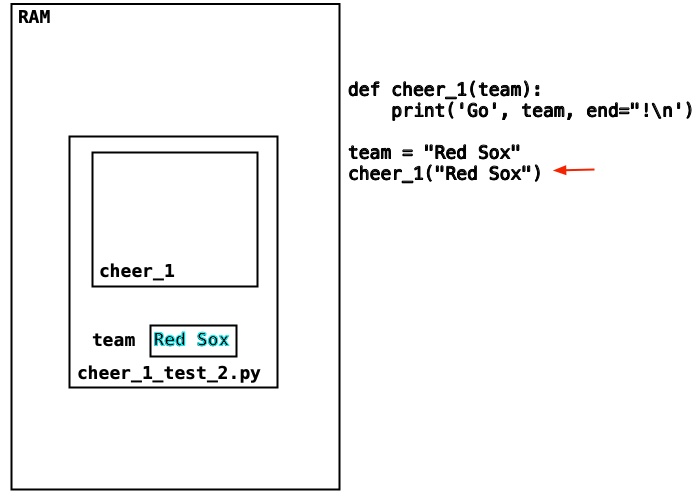 Once again the script has a variable

team

...
inside it's own variable memory space
Now let's look at the situation after the function is called ...
but before any of the function code is run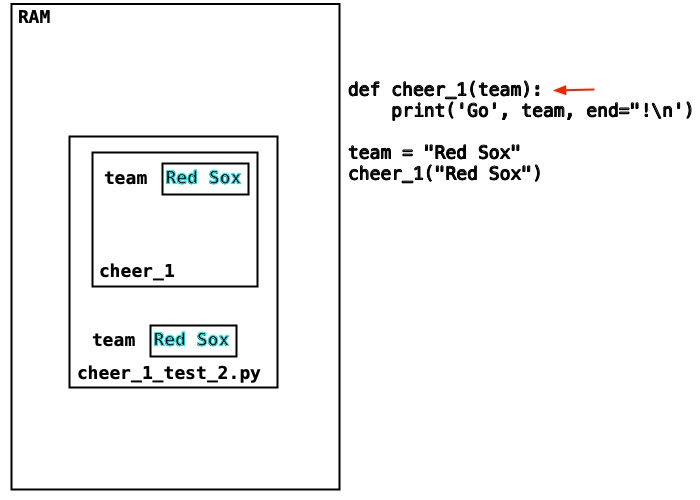 The function gets its own variable memory ...
but the function has no parameter ...
so it has no variables of its own yet
But after the first line of the function is executed ...
the function creates it's own variable ...
inside it's variable memory space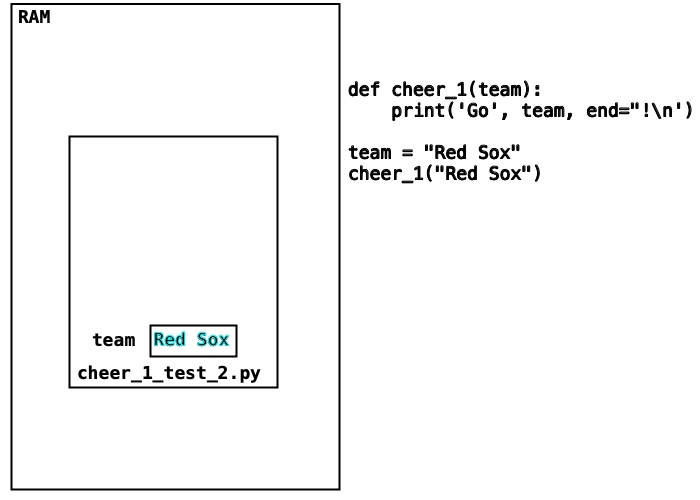 Notice that we have two different variables ...
both named

team

...
that have different values ...
and live in two different parts of RAM
When the function finishes it loses it's variable memory space ...
and all it's variables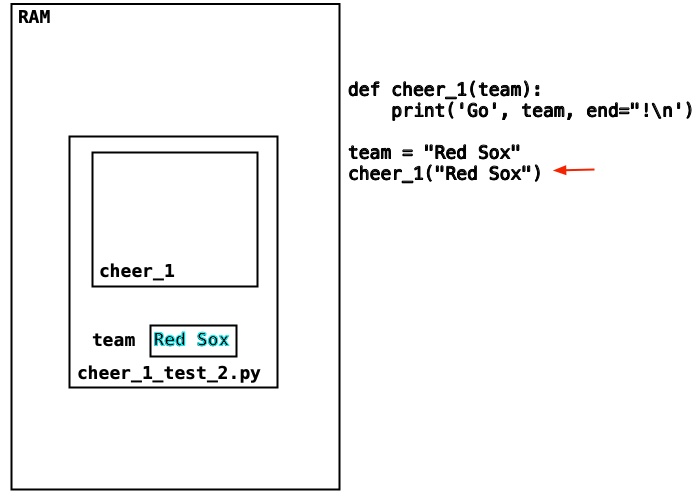 The variable named

team

defined inside

cheer

...
only exists when

cheer

is running
This means the variable is invisible outside the function
The part of a program where a variable has meaning ...
is called the scope of the variable
Local variables defined inside one function ...
are invisible to other functions
This means we can use the same variable name ...
in more than one function ...
and the Python interpreter will never be confused
Parameters Are Local Variables
Parameters only come into existence ...
inside the memory space of the function
That means that parameters are local variables
The only thing that makes a parameter different ...
from other local variables ...
it how it gets its first value
It gets this value from the function call ...
but you can change the value inside the function ...
just as you can with any local variable
Passing Arguments to Functions
The print function is useful because we can give it different values ...
each time it runs
In other words, we can give this function information ...
from outside the function
This information is provided in the form of arguments
The arguments are values that appear inside the parentheses ...
in a function call
An argument can be any legal Python expression
This means an argument can be

A literal - 'Red Sox'
A variable - team
A calculation - num + 5
A function call - math.factorail(number)

We defined the first version of

cheer

...
to use a parameter


def cheer(team):
    print('Go', team, end="!\n')

This means that if we call

cheer

twice ...
will two different arguments ...
we will get two different results


>>> cheer('Red Sox')
Go Red Sox!
>>> cheer('Patriots')
Go Patriots!

The parameter defined in a function header ...
is a local variable
But it is different from local variables defined inside the function body ...
A parameter is a local variable ...
that gets it value ...
from an argument in the function call
The other local variables get their values ...
from statements inside the function body
Passing Multiple Arguments
Function can have more than one parameter
When you call a function with more than parameter ...
you must provide an argument ...
for each parameter
So if I were to define the function

name

like this


def name(first, last):
    print('My name is', first, last)

When I call the function I would need one argument ...
for each parameter


>>> name('Glenn', 'Hoffman')
My name is Glenn Hoffman

The argument values are matched with the parameters ...
by their position in the function call


>>> name('Hoffman', 'Glenn')
My name is Hoffman Glenn

So the first argument in the function call ...
gives a value to the first parameter ...
the second argument give value to the second parameter ...
and so on
If you don't supply a one of the parameters
you will get an error


>>> name('Glenn')
Traceback (most recent call last):
  File "<stdin>>", line 1, in <module>


TypeError: name() missing 1 required positional argument: 'last'
Default Values for Parameters
The problem with having a function with many parameters ...
is that you have to supply a value for each parameter ...
or you will get an error
This is particularly annoying ...
when some parameter normally has the same value
Consider the following function ...
for converting feet and inches ...
into either total inches or total centimeters


# converts feet and inches to inches or centimeters
def convert(feet, inches, units):
    total_inches = 12 * feet + inches
    if units == "inches":
        print(total_inches)
    else:
        print(total_inches * 2.54

When we call this function we must supply three arguments


>>> convert(6, 5, 'inches')
77

In America, the only major country that does not use the metric system ...
the third argument would almost always be 'inches' ...
but every time it was used ...
the third parameter would need to be supplied
Fortunately, Python gives you an alternative
Python lets you define a function ...
with a default value
A default value is a value that is supplied automatically ...
if the user or the program does not supply it
The format for writing a function with default values is




def  FUNCTION_NAME([PARAMETER, ...], PARAMETER_NAME=DEFAULT_VALUE [, PARAMETER_NAME=DEFAULT_VALUE]):
    STATEMENT
    ...

Notice that the default values must come at the end of the parameter list ...
and that you can have more than one
Let's rewrite the previous function ...
to give the parameter a default value


# converts feet and inches to inches or centimeters
def convert(feet, inches, units='inches'):
    total_inches = 12 * feet + inches
    if units == "inches":
        print(total_inches)
    else:
        print(total_inches * 2.54)

Most of the time when this function is used ...
only two arguments will be given


>>> convert(6, 5)
77

But we can also supply the third argument


>>> convert(6, 5, 'centimeters')
195.58

With this particular function we can go a step further
If the user enters a measurement with no inches value ...
they must still supply the second argument


convert(6, 0)
72

Why not give the second argument a default value of 0


def convert(feet, inches=0, units='inches'):
    total_inches = 12 * feet + inches
    if units == "inches":
        print(total_inches)
    else:
        print(total_inches * 2.54)

Now we can call the function with only one argument


convert(6)
72
Argument Values in a Different Order
One of the problems with writing functions that have multiple parameters ...
is that you have to remember the parameters ...
and their order
If you supply the right number of argument values ...
you will not get the results you want ...
and you may get a error


# This program program makes a function call with arguments in the wrong order

def cheer(team, times=1):
    for i in range(times):
        print("Go " + team + "!")
    
cheer(4, "Sox")

$ python3 cheer_11.py 


Traceback (most recent call last):
  File "cheer_11.py", line 7, in <module>
    cheer(4, "Sox")
  File "cheer_11.py", line 4, in cheer
    for i in range(times):
TypeError: 'str' object cannot be interpreted as an integer

This error occurs because the parameter

times

need an integer value ...
since it is used in a for loop
If the parameters all needed the same data type ...
we would not get an error if we gave arguments in the wrong order ...
but the function would not work the way it was intended
Python lets you supply argument values in any order ...
as long has you write the parameter name for each value ...
inside the function call
Here is the format for the function call




FUNCTION_NAME(PARAMETER_NAME=VALUE [,PARAMETER_NAME=VALUE, ...])

We can call the

cheer

function with arguments in any order
as long as we supply the parameter names


$ cat cheer_12.py 
# This program program makes a function call with arguments in the wrong order
# but supplying the parameter name before the value

def cheer_3(team, times=1):
    for i in range(times):
        print("Go " + team + "!")
    
cheer_3(times=4, team="Sox")

$ python3 cheer_12.py 
Go Sox!
Go Sox!
Go Sox!
Go Sox!

It is also to possible to supply some arguments in the normal, proper, order ...
and some arguments out of order
We used this feature of Python ...
when we changed the default values ...
of the print parameters

end

and

sep
Global Variables
Parameters and variables declared inside a function ...
are local variables
Local variables cannot be seen outside the function
But what about the variables declared outside any function?
These variables live in the outermost variable memory space
This gives them special properties
Variable declare outside of functions ...
can be seen inside any function
These variables are called global variables
I can use this feature to write a new version of the

cheer

function


def cheer():
    print('Go', 

team

, end="!\n')

To use this function I must declare the variable

team

...
in the program code ...
outside the function


>>> team = 'Red Sox'
>>> cheer()
Go Red Sox!

If I change the value of the global variable

team

...
the function will print the new value


>>> team = 'Pats'
>>> cheer()
Go Pats!

You can think of functions as looking at the program memory ...
through a one way mirror
Functions can see the variables declared in the program
But the program cannot see variables declared inside the function
If you declare a local variable inside the function ...
that has the same name as a global variable outside the function ...
the Python interpreter will use the value of the local variable


>>> def cheer():
...     team = 'Red Sox'
...     print('Go', team, end="!\n')
... 
>>> team = 'Pats'
>>> cheer()
Go Red Sox!

This is called variable shadowing
If I try to run

cheer

without having defined

team

outside the function...
I will get an error


>>> cheer()
Traceback (most recent call last):
  File "<stdin>", line 1, in <module>
  File "<stdin>", line 2, in cheer


NameError: name 'team' is not defined

For this reason, it is not a good idea to call global variables ...
inside functions
Another reason is that useful function are often put into files called modules ...
which can be imported into any program as needed
If functions in a module depended on global variables in the script ...
it would make them harder to use
Don't use global variables inside a function ...
unless you have a very good reason
Global Constants
Some things in life, and in programming, never change

The number of days in the week
The number of months in a year
The first date of the year
The ratio of the circumference of a circle to its diameter (π)

For this reason, some languages have special variables called constants
A constant is a special kind of variable ...
that is assigned a value ...
and that value can never change
Python does not have constants ...
but you can use a global variable for this purpose
Global variables in Python cannot be changed inside a function ...
unless you do something special
This means that if you assign a value to a global variable ...
and don't change it's value in the code outside the function ...
it will behave like a constant
It is customary to write the names of constants in ALL_CAPITALS
Global variables used this way should be declared once ...
at the top of the program ...
and never changed
Pausing Execution of a Script
Attendance