IT 244: Introduction to Linux/Unix
Class 7
Today's Topics
Course Requirements
Tips and Examples
Review
New Material
Reading Assignment
The reading assignment for this week is chapter 3 of Sobell, The Utilities.
You will find a list of all reading assignments here.
There is a link to this page on the class web page.
Homework 3
I have posted Homework 3 here.
As usual, it will be due next Sunday at 11:59 PM.
Course Requirements
Collecting and Testing Assignments
All homework assignments and Class Exercises are due on the Sunday after they are posted ...
at 11:59 PM
I do not have the time to score this work until the following weekend
In the week between when something is due ...
and when I score it ...
I run scripts to collect homework assignments ...
and test Class Exercises
I try to do this three times a week ...
on Monday, Wednesday and Friday
Notifying You About Missing Work
If I cannot collect your homework assignment ...
I will send you an email
If I cannot find you Class Exercise ...
or if there is a problem with your script ...
I will send you an email describing the problem
This is only done in the week between the due date ...
and the following weekend ...
when I score the work
Once I score an assignment ...
I will send no more messages about missing work
This means I cannot send you a list of the work ...
that you have not turned in
Late Work
Once I have scored an assignment ...
on the weekend following the due date ...
I cannot accept any missing work
I simply do not have the time
Tips and Examples
Checking Class Exercises
If you run my testing scripts on your Class Exercise and you get no error messages ...
then your script is OK
If you cannot finish the exercise in class ...
you may do so at home
If I have not checked your exercise in class ...
I will do so later by running a script
If you did not create a script for the exercise ...
or there is a problem with your script ..
you will receive an email from me
If you receive no email ...
you received full credit for the exercise ...
minus any late penalty
An Easy Way to Create Homework Scripts
You may create your homework scripts anyway you like ...
as long as they meet the homework specification
But I would suggest the following approach
You can have more than one ssh window open ...
at any one time
Most ssh client packages allow you to copy and paste ...
between different windows
You can use this feature in creating homework scripts
First, open two ssh windows connected to

.cs.umb.edu

In both windows go to the homework directory for the assignment
In one window run nano or a Unix text editor ...
to create the homework script file ...
with the name specified for the assignment
In this script file write the echo statement


echo Step 1

Now create two empty lines
Repeat this procedure for every step in the assignment
No go to the other window
Enter the Unix commands that will perform a step
When you get the commands working ...
copy and paste them into the script file ...
under the appropriate step number
Read the Specification
It's important to read the homework assignments carefully
If you leave out a step ...
or a part of step ...
you will lose points
I try to be careful to say exactly what I want ...
in a quiz, text or homework assignment
If you do not do everything I have asked ...
you will not get full credit
I do not do this to be obnoxious
I do this to prepare you for professional work
In technology, details are important
If you misspell a command in Linux/Unix you will get an error
If you skip a step in an installation procedure ...
the install will not work properly
In a well-run organization every project will have a specification
If you miss a step in this specification ...
you have not completed the project
Treat the homework assignments like a specification ...
and read them carefully
It is a good idea to read a specification more than once
When I was in school, I read each assignment immediately after class
That way I could look for anything that might cause me trouble
I could ask questions if I did not understand some point
Read over your homework assignment after you have done the work ...
to make sure that you have not skipped something
One of the purposes of a college education ...
is to teach you habits that will help you later in life
Reading the specification carefully ...
is a habit you should learn now
Always Check Your Work
Always run your scripts to see that they work ...
before the assignment is due
If you script does not run ...
or runs will errors ...
you will lose points
You should never assume that a script that you have written will work
You may read a script and think it looks fine ...
but spelling or other errors are easy to overlook
Whenever you make a change to a script ...
you should run it again
Always check your work
Common Mistakes with Pipes
There are some mistakes that student seem to make each semester
Two of these mistakes involve pipes
The first mistake is to use cat at the beginning of a pipeline ...
when it is not needed
Students will sometimes use cat to create input ...
that is then piped into grep, sort, head or tail
You don't need cat in a pipe with these commands ...
because these utilities can read a file directly ...
without using cat
So instead of using


cat names.txt | grep Glenn
cat names.txt | sort
cat names.txt | head
cat names.txt | tail

you should simply use


grep Glenn names.txt
sort names.txt
head names.txt
tail names.txt

This mistake is harmless ...
because it does not affect the result
But the second mistake will cause an error
The mistake is to use the filename ...
given to the first command in a pipeline ...
to the following commands
If I wanted to find all Red Sox games where the Sox won at home ...
I would write


grep Win red_sox.txt | grep vs

I would not write


grep Win red_sox.txt | grep vs 

red_sox.txt

  # WRONG

If you do this, the output of the first grep ...
will be thrown away ...
and you will only get the output of the second grep
Review
The Shell Prompt
Pipes - Stringing Programs Together
A pipe takes the output of one command ...
and feeds it into the input of another command
Pipes allow you to chain together several Unix commands ..
into a single command
Commands joined in this way are sometimes called pipelines
Pipes are essential to the Unix philosophy of simple tools
Using pipes, you can string together many commands ...
to achieve exactly what you want
You form a pipe by placing the vertical line character,

|

...
between two commands


$ head -5 red_sox.txt
2011-07-31  Red Sox @  White Sox    Win 5-3
2011-07-02  Red Sox @  Astros       Win 7-5
2011-07-03  Red Sox @  Astros       Win 2-1
2011-07-04  Red Sox vs Blue Jays    Loss 7-9
2011-07-05  Red Sox vs Blue Jays    Win 3-2

$ head -5 red_sox.txt 

|

 sort
2011-07-02  Red Sox @  Astros       Win 7-5
2011-07-03  Red Sox @  Astros       Win 2-1
2011-07-04  Red Sox vs Blue Jays    Loss 7-9
2011-07-05  Red Sox vs Blue Jays    Win 3-2
2011-07-31  Red Sox @  White Sox    Win 5-

Notice, in the command line above, that sort does not have an argument
Normally sort requires an argument that specifies the file to sort
But in a pipe, each command after the first ...
takes its input from the output of the preceding commands
You never need to specify the input when using a command in a pipeline ...
except the first command
uniq - Eliminate Duplicate Lines
uniq prints the lines of a file to the screen ...
leaving out any adjacent lines that are identical
Notice that the lines must be adjacent
To make sure identical lines adjacent when using uniq ...
you should run sort on the file ...
and then pipe the output into uniq
The -i option makes uniq ignore case when looking for duplicate lines
diff - Differences between Files
diff compares two files and notes their differences
diff was created for use with the patch utility
Run diff with the -y option to get output that is easier to read
file - See the File Type
date - Get the Date and Time
The Unix date command will give the time and the date


$ date
Tue Aug 21 10:20:05 EDT 2012

If we follow the command with a

+

and a string we can change the format


$ date 

+"%Y-%m-%d"


2012-08-21

Use info or man to see the various formatting options date provides
which - Finding a Program File
whereis - Finding Files Used by a Program
locate - Search for Any File
which and whereis only work on programs
locate can be used to find any file
You don't need to know the full name of a file to use locate
locate will search on a partial file name


$ locate foot
/etc/update-motd.d/99-footer
/usr/share/doc/java-common/debian-java-faq/footnotes.html
/usr/share/emacs/23.3/lisp/mail/footnote.elc
/usr/share/emacs/23.3/lisp/org/org-footnote.elc
/usr/share/libparse-debianchangelog-perl/footer.tmpl
/usr/share/xml-core/catalog.footer
/usr/src/linux-headers-3.0.0-12/arch/arm/mach-footbridge
/usr/src/linux-headers-3.0.0-12/arch/arm/mach-footbridge/Kconfig
/usr/src/linux-headers-3.0.0-12/arch/arm/mach-footbridge/Makefile
/usr/src/linux-headers-3.0.0-12/arch/arm/mach-footbridge/Makefile.boot
/usr/src/linux-headers-3.0.0-12/arch/arm/mach-footbridge/include
/usr/src/linux-headers-3.0.0-12/arch/arm/mach-footbridge/include/mach
/usr/src/linux-headers-3.0.0-12/arch/arm/mach-footbridge/include/mach/debug-macro.S
...

locate does not actually search the file system itself
That would take too long
Instead it uses a database of all files on the system
This database is created by another program updatedb
updatedb is usually run automatically in the background to update the database
who - See Users Logged On
who prints a list of all users currently on the machine


$ who
ghoffman  pts/0        2012-08-12 13:41 (dsl092-066-161.bos1.dsl.speakeasy.net)
rouilj   pts/1        2012-08-12 04:25 (pool-74-104-161-40.bstnma.fios.verizon.net)
eb       pts/2        2012-08-12 08:19 (pool-96-237-251-11.bstnma.fios.verizon.net)

who also provides information about each user's login session
who am i will show the user who is logged into a terminal


$ who am i
ghoffman  pts/0        2012-08-12 13:41 (dsl092-066-161.bos1.dsl.speakeasy.net)
finger - Get information on Users
finger provides information about a user account


$ finger ghoffman
Login: ghoffman       			Name: Glenn Hoffman
Directory: /home/ghoffman           	Shell: /bin/bash
On since Thu Sep 24 11:43 (EDT) on pts/5 from 158.121.249.7
   5 seconds idle
Mail forwarded to glennhoffman@mac.com
New mail received Fri Sep 18 14:00 2015 (EDT)
     Unread since Fri Sep 18 07:43 2015 (EDT)
Plan:
Office:        Science 3-92A (Pterosaur poster on door)           
Office Hours:  Tuesday & Thursday, 12:30 - 1:30 PM and 5:30 - 6:30 PM 
On Campus:     Wednesday 1 - 6PM Appointment needed on Wednesday
Classes:       IT 244-01   Introduction to Linux/Unix             TuTh 2:00 - 3:15 PM  Science S3-143 (IT Lab)
               IT 244-02   Introduction to Linux/Unix             TuTh 4:00 - 5:15 PM  Science S3-028 (Web Lab)  
               IT 341_02   Introduction to System Administration  TuTh 7:00 - 8:15 PM  Science S3-143 (IT Lab)
Home Address:  40 Central Street     617-821-3936 (home; 9am - 9pm only)
               Somerville, MA 02143

finger, like mv, has two functions
When used without an argument, finger shows ever user currently logged in


$ finger
Login     Name            Tty      Idle  Login Time   Office     Office Phone
eb        Ethan Bolker    pts/4    3:35  Sep 22 19:19 (pool-108-26-203-122.bstnma.fios.verizon.net)
ghoffman  Glenn Hoffman   pts/5          Sep 24 11:43 (158.121.249.7)
root      root           *tty1      52d  Mar 11  2015

You can also use a last or first name with finger


$ finger hoffman
Login: ghoffman       			Name: Glenn Hoffman
Directory: /home/ghoffman           	Shell: /bin/bash
On since Thu Sep 24 11:43 (EDT) on pts/5 from 158.121.249.7
   2 seconds idle
Mail forwarded to glennhoffman@mac.com
New mail received Fri Sep 18 14:00 2015 (EDT)
     Unread since Fri Sep 18 07:43 2015 (EDT)
Plan:
Office:        Science 3-92A (Pterosaur poster on door)           
Office Hours:  Tuesday & Thursday, 12:30 - 1:30 PM and 5:30 - 6:30 PM 
On Campus:     Wednesday 1 - 6PM Appointment needed on Wednesday
Classes:       IT 244-01   Introduction to Linux/Unix             TuTh 2:00 - 3:15 PM  Science S3-143 (IT Lab)
               IT 244-02   Introduction to Linux/Unix             TuTh 4:00 - 5:15 PM  Science S3-028 (Web Lab)  
               IT 341_02   Introduction to System Administration  TuTh 7:00 - 8:15 PM  Science S3-143 (IT Lab)
Home Address:  40 Central Street     617-821-3936 (home; 9am - 9pm only)
               Somerville, MA 02143
               

Login: ghoffmn        			Name: Glenn Legacy Hoffman
Directory: /home/ghoffmn            	Shell: /bin/bash
Last login Mon Jul 13 13:14 (EDT) on pts/5 from dsl092-066-161.bos1.dsl.speakeasy.net
Mail forwarded to glennhoffman@mac.com
Mail last read Thu May 28 18:30 2015 (EDT)
Plan:
Office:         McCormack M-3-607                 Fall 2014
Office Hours:   Tuesday & Thursday, 10:00 - 12:00 PM and by appointment
Classes:        
	IT 341-2  Introduction to System Administration  TuTh  12:30-1:45  S3-148  (IT Lab)
	IT 244-1  Introduction to Linux/Unix             TuTh   2:00-3:15  S3-028  (Web Lab)
	IT 244-3  Introduction to Linux/Unix             TuTh   4:00-5:15  S3-148  (IT Lab)
	IT 244-2  Introduction to Linux/Unix             TuTh   5:30-6:45  S3-028  (Web Lab)
Home Address:   40 Central Street     617-821-3936 (home; 9am - 9pm only)
                Somerville, MA 02143


Login: it244gh        			Name: Glenn Hoffman Dummy
Directory: /home/it244gh            	Shell: /users/nologin
Never logged in.
Mail forwarded to glennhoffman@mac.com
No mail.
Plan:
This account is a test account for Glenn Hoffman teaching it244
New Material
Text File Conversion Programs
Text files on Unix differ from those on Windows machines ...
by the characters used to mark the end of a line
There are two packages that provide software ...
to convert between these two formats
We won't be using either of them in this course ...
but you should know about them
The tofrodos package provides todos ...
to convert Unix files to Windows format
The same package has fromdos to go the other way
The unix2dos package uses unix2dos ...
to convert Unix text files to Windows text
It also provides dos2unix to go the other way
You will not be expected to know this ...
for a quiz or exam
Compressing Files with bzip2
On the Internet there are many files ...
which are free for the taking
Many of these files are huge ...
and copying them to a machine can take a long time
To speed up the process, big files are usually compressed
Compression utilities are used to do this
bzip2 is one such utility
It achieves the highest compression ratio ...
of all common compression utilities
You run bzip2 like this




bzip2 FILENAME

bzip2 compresses the file ...
creating a new file with the extension

.bz2

...
and deletes the original file
If you need to keep the original file ...
run bzip2 with the -k (for keep) option
To decompress a file created by bzip2 ...
use bunzip2 like this




bunzip2 FILENAME.bz2

bunzip2 decompresses the

.bz2

file ...
and create a new file ...
with the

.bz2

extension removed
The compressed file is also deleted
A file that bunzip2 has compressed is unreadable
If you want to look at the contents of a

.bz2

compressed file ...
without uncompressing it ...
use bzcat
bzcat, will print the uncompressed contents of a file to the screen
bzcat does not alter the original, compressed file
gzip - the GNU Compression Utility
The GNU project created gzip to compress files
It is older, and less efficient, than bzip2
But many open source packages are compressed with this program
It is similar in operation to bzip2
The compressed files gzip creates have a

.gz

extension
To show the contents of a file without converting it ...
use zcat
To decompress a gzipped file, use gunzip
These utilities have nothing to do with the zip and unzip programs ...
that are frequently used on Wintel machines
tar - Packaging Files for Transfer or Storage
The Hierarchical Filesystem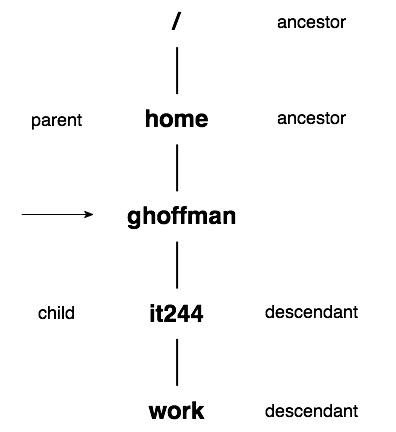 Unix Files and Directories
Files are linear arrangements of data ...
on some storage device
Some files are programs
Program files contain binary instructions that the machine understands
Some files contain data in various formats ...
such as text
Some Unix text files contain configuration information
These configuration files modify your Unix environment
They perform the same function as the Windows Registry
Since these files are text ...
you can read and edit them easily
You only need a text editor to read or change them ...
not some special utility ...
like the Windows Registry Editor
Unix treats directories as files ...
although they are a special kind of file
Unix also treats devices as special kind of file
But this is invisible to the ordinary user
You can't run cat or less on a directory or a printer
Treating directories and devices as files ...
allows Unix to be simpler than it might be ...
and in engineering simpler is always better ...
than complicated
Directories and devices are just special kinds of files
Filenames
When you ask Unix for a file ...
you must give it two pieces of information

The name of the file
The location of the file in the hierarchical file system

Every file has a name - the filename
Different Unix flavors allow filenames to be of different length
Most Unix systems allow filenames to be no more than 255 characters
It's best to keep filenames short
This makes them easier to type
You're less likely run into trouble ...
if you move the file to another system ...
where the maximum filename length may be shorter
To learn the maximum length of a filename on any machine use stat


$ stat -f /home | grep Namelen
ID: 0        Namelen: 255     Type: autofs

Notice that I used a pipe to get just the information I wanted
You can use a space in filenames if you enclose them in quotes
This is a VERY BAD IDEA
When you run ls on a directory that has a filename with a space in it ..
it looks like you have more than one file


$ touch 'foo bar'
$ ls
foo bar

It looks like you have two files,

foo

and

bar

In reality, you only have one file,

foo bar

If you encounter such a file ...
you have to escape the space character to work with the file


$ ls -l foo\ bar 
-rw-r--r-- 1 it244gh it244-2G 0 2011-09-24 14:34 foo bar

Instead of a space in a filename ...
use an underscore,

_


$ touch foo_bar
$ ls
foo_bar

To avoid problems, only use the following characters in file names

Uppercase letters (A-Z)
Lowercase letters (a-z)
Digits (0-9)
Underscore

_

Dash

-

Period

.

You cannot have two files with the same name ...
in the same directory
Case Sensitivity
Filename Extensions
Extensions are strings of characters ...
that appear at the end of the filename ...
after a period
Unix ignores extensions
As far as Unix is concerned, extensions are just part of the filename
Some Unix programs, do require certain extensions
The C compiler, gcc, expects the filenames of source code files ...
to end in

.c

The Java compiler, javac, expects Java source files ...
to have

.java

extension
These programs enforce this rule
Unix couldn't care less
As far a Unix is concerned an extension ...
is just part of the filename ...
with no special significance
Current Directory
The way a command works depends ...
on your Unix environment
One of the most important parts of your environment ...
is your current directory
Your current directory is your current location ...
in the filesystem
The pwd (print working directory) command
will always tell you your current directory
If you run ls without an argument ...
it will list your current directory
Your Home Directory
Navigating the Hierarchical File Systems
Any file or directory in the hierarchical filesystem ...
will be one of four positions ...
relative to your current directory

Inside your current directory
Below your current directory
Above your current directory
Off to the side of your current directory

In this last case, you must go up before you can go down ...
to reach the file or directory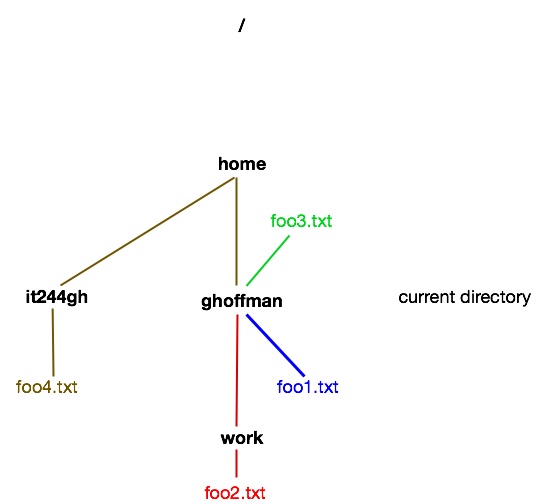 Attendance
Class Quiz